Husband and wife chefs James and Julie Petrakis, who have won wide acclaim for their Central Florida restaurants Cask & Larder and The Ravenous Pig, have expanded their Swine Family Restaurant Group to Disney Springs with a new fast-casual concept, The Polite Pig. Partnering with the James Beard Foundation-nominated chefs is Brian Petrakis, who owns the popular Orlando eatery Greens & Grille. The partnership unites the Petrakis brothers on a restaurant venture for the first time.
Operating with a culinary philosophy similar to its sister Swine Family restaurants, The Polite Pig serves dishes made using sustainable and local ingredients. Some of the signature dishes include House-Smoked Chicken, Brisket, Pork Shoulder and St. Louis Ribs, as well as BBQ Cauliflower on the sides menu. Here's what we'd recommend trying during your visit!
Brisket Sandwich with pimento cheese, lil john's BBQ, pickled jalapeños and crispy onions. YUM! I could try to explain more, but I'll let the ingredient lineup speak for itself in this case. We reluctantly ordered the BBQ cauliflower for our side (at the enthusiastic urging of our awesome server) but were thrilled with the accompaniment! Who knew this white, typically bland, veggie could hold so much flavor and fun?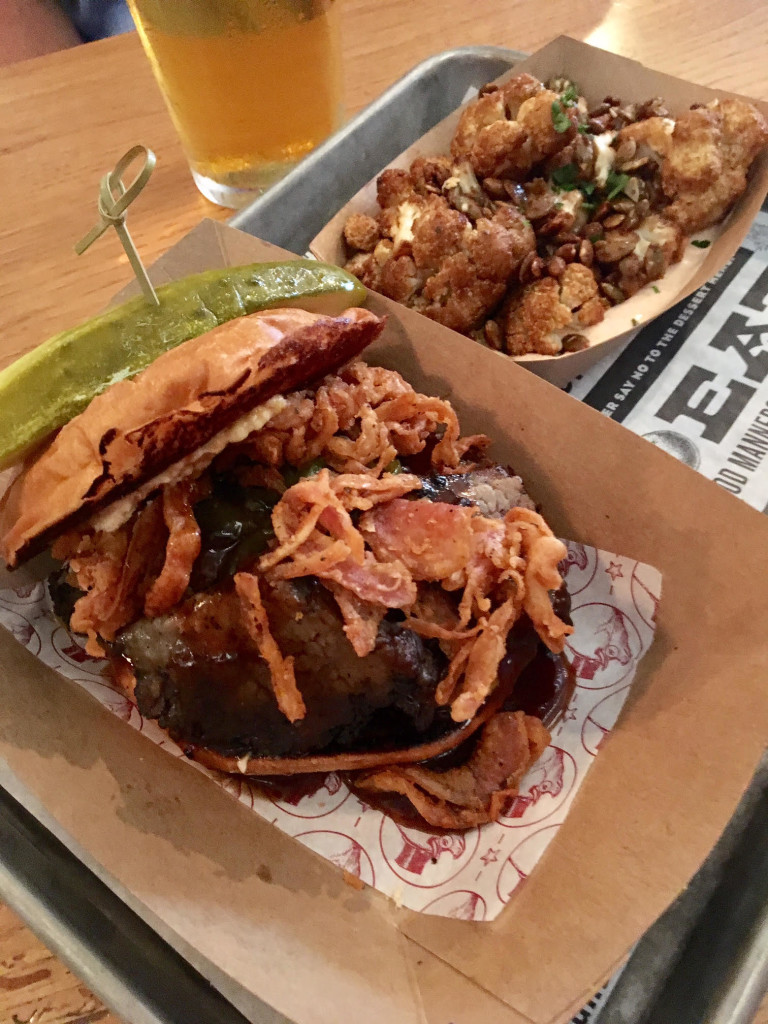 Baby Back Ribs with a signature rub and a side of savory cheese grits with collard greens and bacon black-eyed pea potlicker. We promptly polished off the whole rack and almost inhaled the grits. I'm usually a traditionalist when it comes to my grits, as in don't add anything but cheese and maybe a dash of hot sauce, but the additions to this side dish totally worked. Even our Mississippi-native server is a fan of these grits, and you know how serious southerners are about their grits! Bottom line, order both of these items during your visit to The Polite Pig.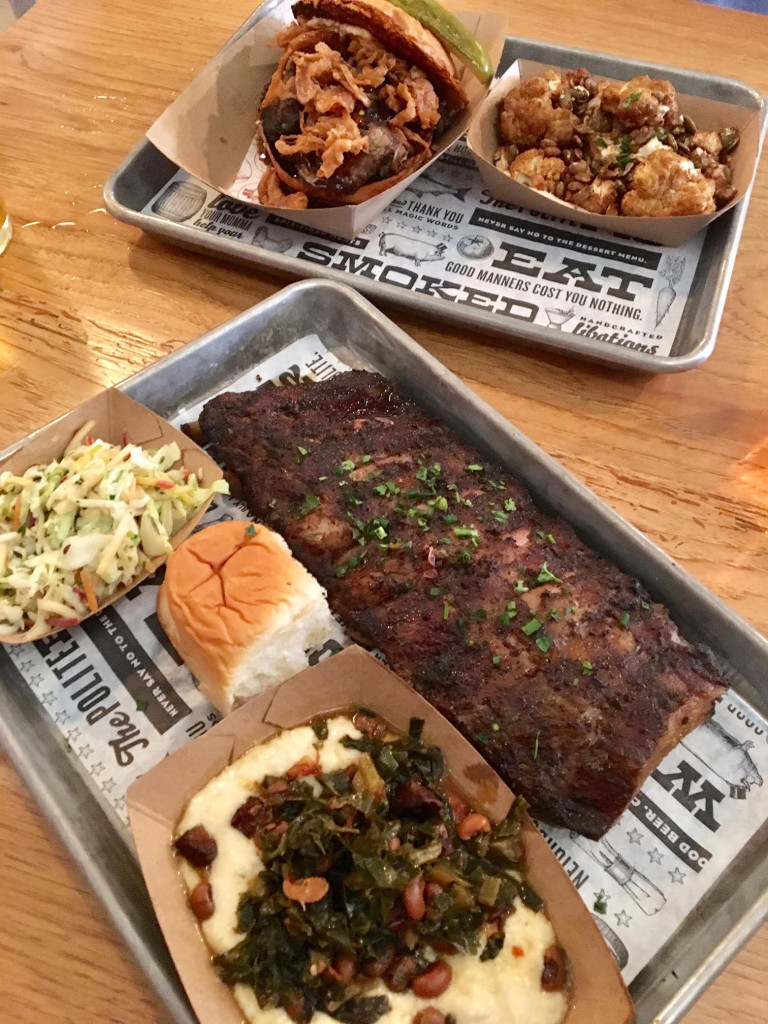 Desserts are kept simple with two choices, Orange Blossom Honey Cake or Double Layer Chocolate Cake. You're at Disney so dessert is not optional, just order both and share among your table for a sweet ending.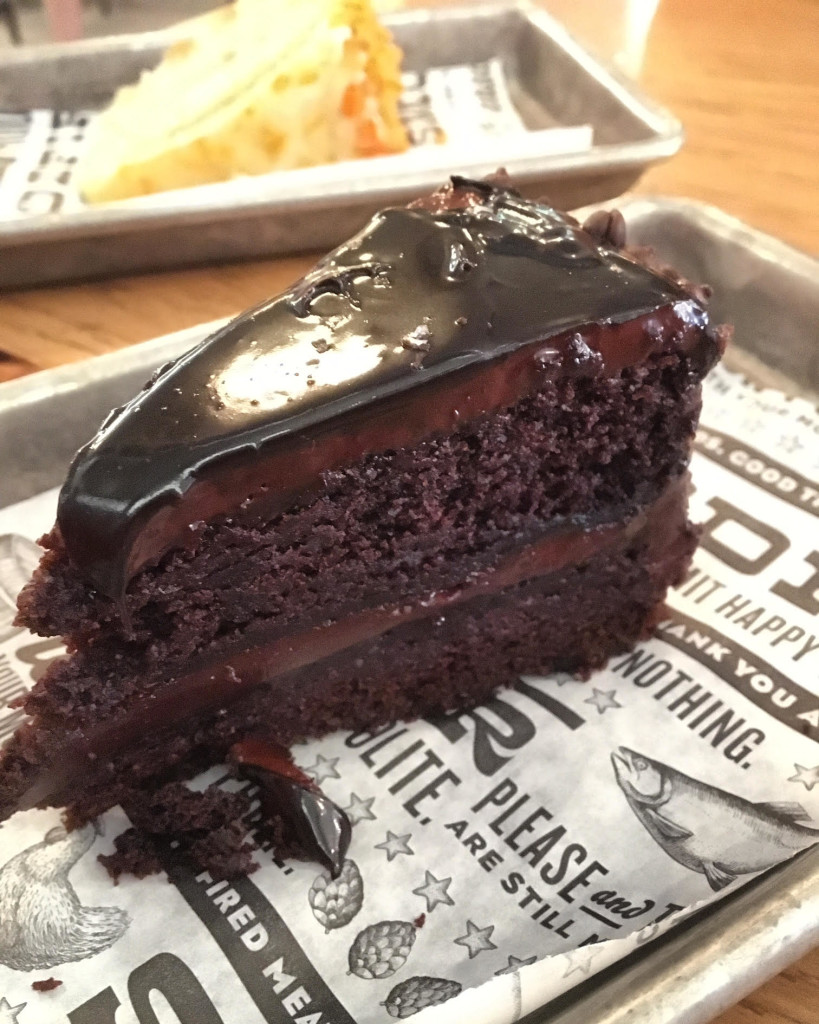 I don't do bourbon (or beer), but am always ready for wine. They have three wines on tap which means they are consistently served at the perfect temperature. Since it's ONE BILLION DEGREES outside order a glass of the French rosé. Plus, ordering wine from a keg is trendy and cool.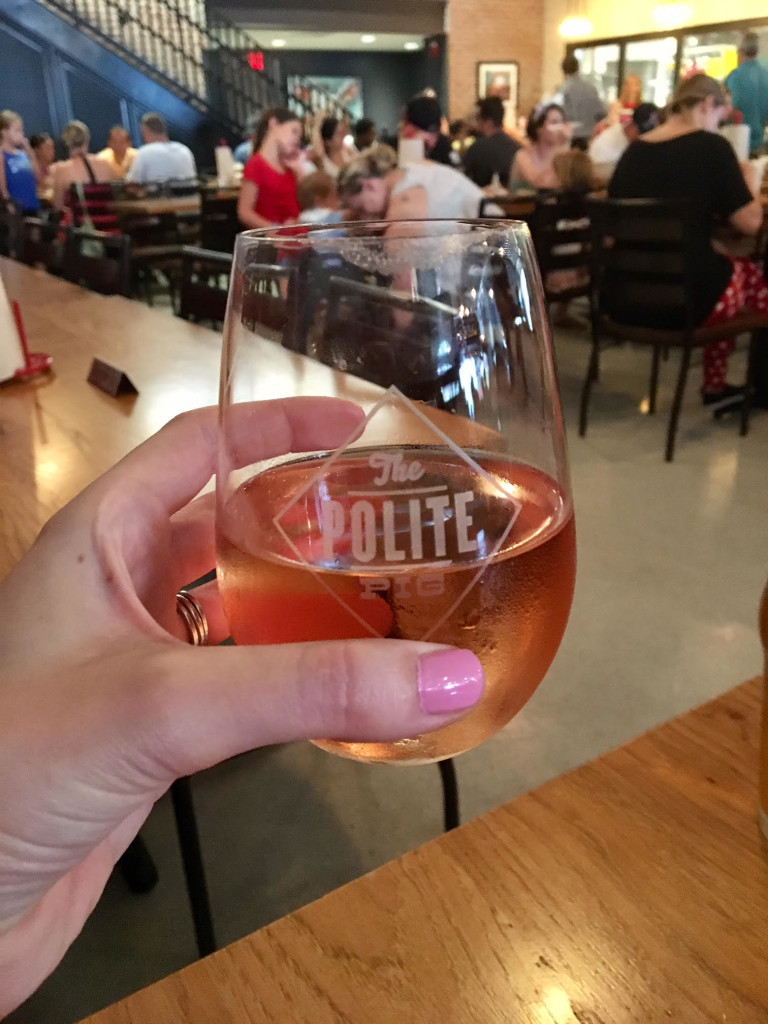 Longtime Swine Family chef Allison Weldon leads The Polite Pig kitchen and serves as the restaurant's executive chef. Most recently, Weldon was part of the Cask & Larder transition team to the Orlando International Airport. She began her career as a line cook at The Ravenous Pig and in 2013 was named a regional winner in the national "2013 Best Young Chef" competition sponsored by the Confrérié de la Chaîne des Rôtisseurs.
The Polite Pig will also features beers and cocktails on tap. Cask & Larder Brewery will brew several of their signature beers for The Polite Pig including its Lone Palm Golden Ale, 5 Points IPA, Red Drum Ale and Working Man Porter. On tap cocktails include Gin & Tonic, Vodka Lemonade, Rum & Coke, Tequila & Grapefruit and an Old-Fashioned. Bourbon enthusiasts will also enjoy the "Bourbon Bar" with more than 60 varieties of whiskey including Florida's largest collection of Pappy Van Winkle whiskeys.
The Polite Pig is located in Disney Springs' Town Center neighborhood. The 5,000-square-foot venue is open daily from 11 a.m. to 11 p.m., with seating for about 200 guests.