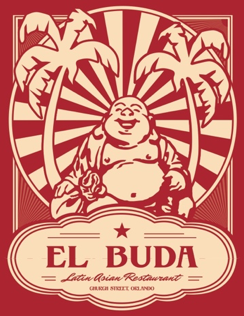 Chef Roberto Treviño's highly anticipated restaurant, El Buda Latin Asian Restaurant, will open on Thursday, December 7th. The chef-driven concept is located in the heart of Downtown Orlando at 116 West Church St (between Hamburger Mary's and the train tracks) featuring Latin and Asian cuisines in a unique way. El Buda will also be serving an extensive menu of craft cocktails and beer, with an emphasis on local brews.
"I moved to Orlando this summer and have had the opportunity to explore the different neighborhoods and am just in love with all the different little unique pockets, especially downtown," Treviño said.  "Orlando is in this amazing place right now as a food city, and I feel blessed to be part of what's happening here and hope that people discover us downtown and get as excited about our food as we are about being here."
Treviño, a native of California, moved to Puerto Rico in the early 1990s where he solidified his culinary reputation as a star chef with some of the island's most popular restaurants including Dragonfly, Aguaviva and Budatai.  Treviño has cooked dinner at the James Beard Foundation house in New York for their award events, is frequently featured as a guest chef in food events throughout the US and the Caribbean, including the Aspen Food & Wine Classic, Telluride Culinary Festival and the St Croix Food and Wine Festival.  He has made numerous television appearances both in Puerto Rico and the US, including a battle against renowned Chef Mario Batali on Iron Chef America, as a contestant on The Next Iron Chef, with Rachael Ray on her show $40 a Day, as well as on his own local shows Kandela and 4 Minutos con Chef Treviño.  He's currently a recurring guest judge on Food Network's Beat Bobby Flay.
Signature dishes present themselves throughout El Buda's menu that will include a variety of sections for guests to explore including Dim Sum and Platitos (Pork and Sweet Plantain Dumpling and Octopus Pimenton Kaisou), Rice and Noodles (Ho Fun with Grilled Churasco and Ropa Vieja BiBimBap), Poke, Crudo and Greens (Herame con Coco and Smoked Salmon Pineapple Poke) and Deluxe Meat and Fish (Duck Breast with Miso Honey Potatoes and Beef Short Rib with Yuzu Papas Bravas).  A diverse selection of sides range from Teriyaki Tots (Treviño loves tater tots) to Chicharron Popovers.  The bar program will place an emphasis on craft cocktails and beer, and will also serve wine.
El Buda is located at 116 W. Church Street (look for the side entrance adjacent to the SunRail tracks) and is open daily for lunch and dinner starting at 11:30am.  Weekend brunch is expected to launch before the end of the year.  Learn more by visiting the restaurant's Facebook Page or by calling (407) 203-8171.  Guests can also follow on Instagram @ElBudaDowntown or Chef Treviño's personal Twitter account @cheftrevino.