American Gymkhana, a restaurant and lounge specializing in modern Indian cuisine, will open Saturday, November 8. Orlando is rapidly expanding its international options and we're thrilled with this announcement as well. Most Indian food is well, intimidating if you're not familiar with the flavors and what to order. American Gymkhana's modern approach is sure to liven up your palate and introduce you to some new flavors. Spork's getting a preview next week, we'll be sure to share all the juicy details and flavor experiences!
Conceptualized by Rajesh Bhardwaj, the restaurateur behind New York's Indian concept Junoon (a Michelin-starred restaurant), American Gymkhana is inspired by a traditional gymkhana – a place of assembly for the elite during the British Raj in India.  The kitchen is helmed by Mumbai native and New York transplant, Chef Aarthi Sampath, who uses imported spices sourced from Indian markets juxtaposed by Florida's locally-sourced ingredients to create a balance of traditional and modern cuisine.
"Starters" are approachable and include dishes such as Gymkhana Chaat (iconic street food snacks), which includes a sampler of samosa, matar tikki and dahi vada while more modern takes on Indian dishes include Galoti Lamb Sliders with spiced yogurt, stuffed lamb and saffron bread.Also available to start are a selection of seven "Skewers" with options ranging from Dahi Kebab, a yogurt and cheese croquette with mango-apricot chutney and Kela Corn Seekh, plantain, corn kaffir lime and sweet pepper coulis to Kadak Seekh, minced lamb, cheddar and tempura batter.
"Mains" are broken up by Fish/Shellfish, Meat/Game, Poultry and Vegetarian selections. A standout dish is the Angrezi Chicken, roasted tomato, homemade butter and garam masala. The term angrezi, which is Hindi for the word British, offers a proper representation of the blending of British and Indian cultures from 1858 to 1947.
Other Mains include Meen Moilee, crisped seasonal fish, coconut milk, fresh turmeric, lemongrass and curry leaves, and Lamb Vindaloo, apple cider vinegar, black pepper, goan chilies and twice fried potato. Nodding to India's robust vegetarian diet, a healthy selection of six options range from Kofta Hariyali, cheese fritters, methi, spinach and green peas to Market Vegetable Korma, coconut, cashew and ginger.
Check back next week for our full review! American Gymkhana is located on Orlando's Restaurant Row, at 7559 West Sand Lake Road.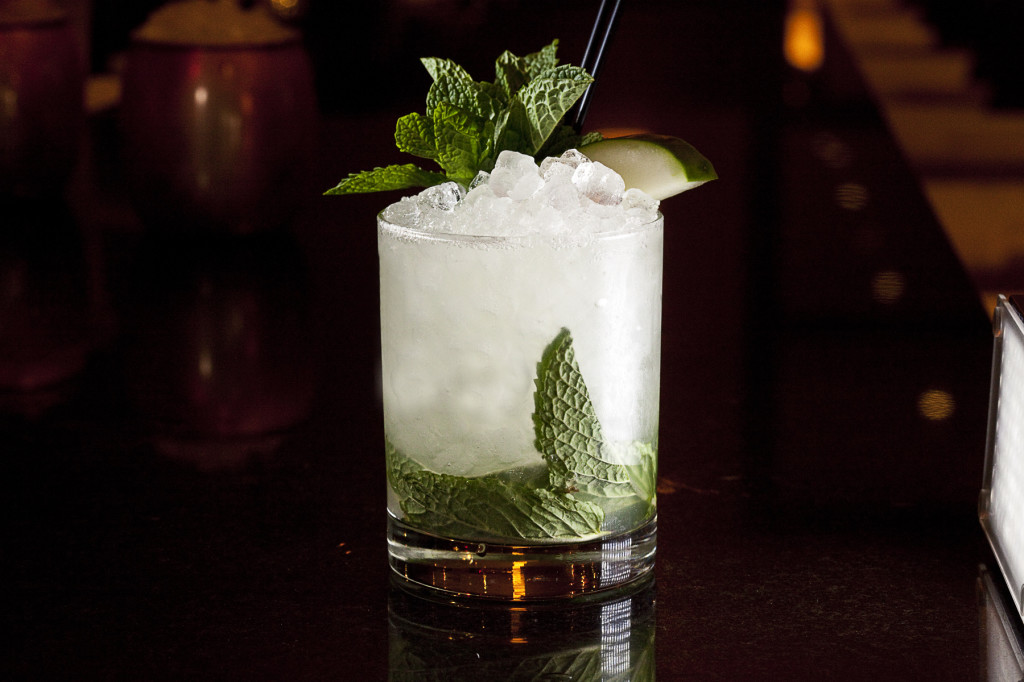 Hendrick's Smash – Photo Credit: American Gymkhana