Oh Southern food……how you've made quite a splash in the culinary scene. For those of us accustomed to grits, fried everything and BBQ it's disheartening to see our beloved classics sometimes items altered to a state beyond recognition. You know what I'm talking about; it's the truffle shrimp and grits or sriracha fried chicken at an uber trendy restaurant that makes true Southerns shake their heads and sigh.
Thankfully, there's a new place in town serving up Southern food, pure and simple. Chef Art Smith's Homecoming is exactly that – an homage to his roots as a sixth generation Floridian, his newest restaurant brings his favorite dishes home. The name Homecoming is a nod to Chef Art's return to Walt Disney World after his first cast role in The Magic Kingdom College Program in 1981 – now known as the Walt Disney World College Program. Chef Art has spent many years traveling, making TV appearances, cooking award-winning meals for celebrities and opening restaurants like Table Fifty-Two in Chicago, Southern Art and Bourbon Bar in Atlanta and Art and Soul in Washington, D.C. But to him, Florida is home. And he has come back to share some of his favorite Florida farm-to-fork dishes with locals and tourists alike.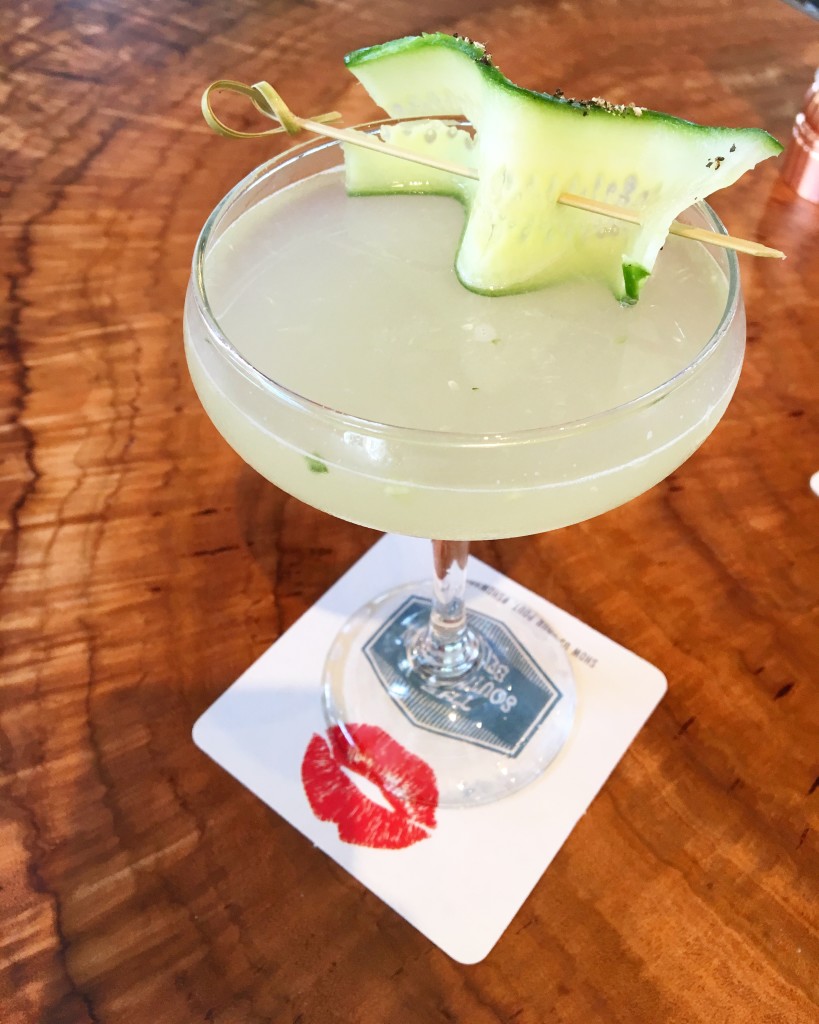 My family and I spent a few hours on my birthday here recently and were pleasantly surprised by the friendly service, perfectly prepared cocktails and, of course, their simple Southern dishes. The interiors are lovely, both warm and detailed all in one. As a fourth generation Floridian it's nice to see a bit of the Sunshine State represented among a sea of tourists. Homecoming's seasonal menu with local ingredients (would you expect anything different these days?) is well crafted and true to its roots. Here's what we tasted and sipped during our time at Homecoming:
Jasper Board: An assortment of pimento cheese, smoked sausage, shaved ham, bread and butter pickles and candied pecans. I'll admit, this wasn't the strongest start to our meal between the long wait time and average pimento cheese, but those pickles were fantastic and the rest of our dishes made up for a ho-hum starter. I only call this out so you save room for other appetizers like their deviled eggs.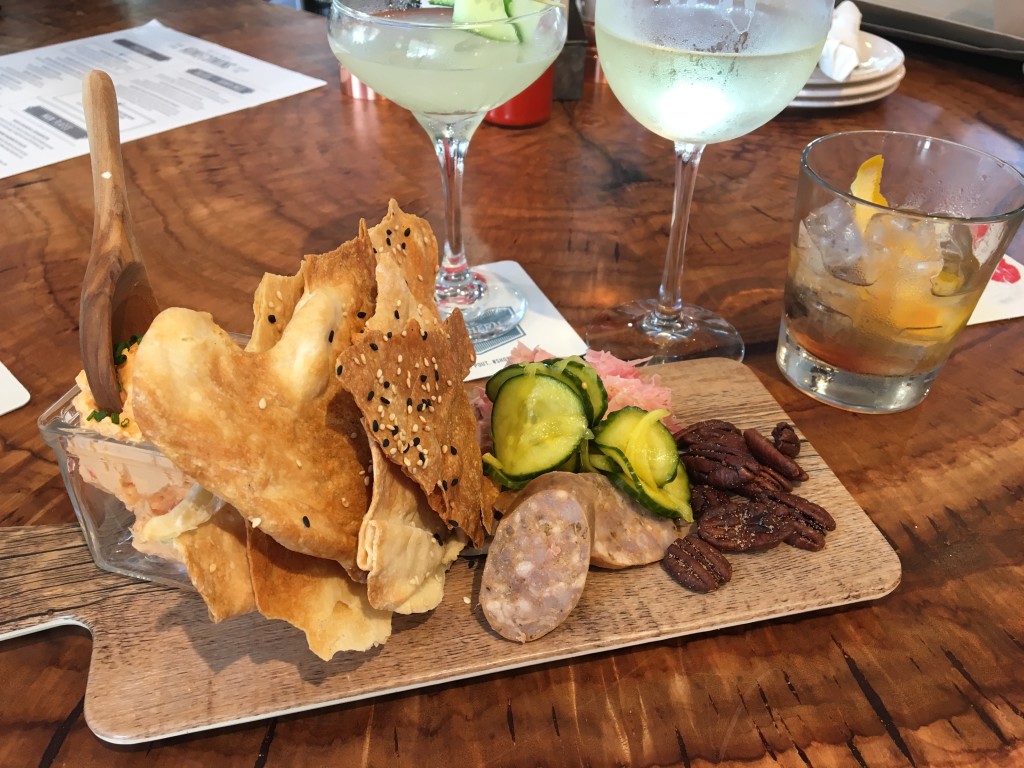 Church Lady Deviled Eggs: If I'm ever required to bring deviled eggs to a Sunday picnic, I'm totally calling Art. These whole style eggs live up to their name, church ladies know how to make a proper deviled egg.
Chopped Pork Barbecue Plate: Let's all stand and applaud for Momma's mac and cheese. No really. The cheesy, gooey goodness totally stole the show from the barbecue – which was also quite tasty I might add. Just skip the cheddar drop biscuit, save the calories for all those noodles.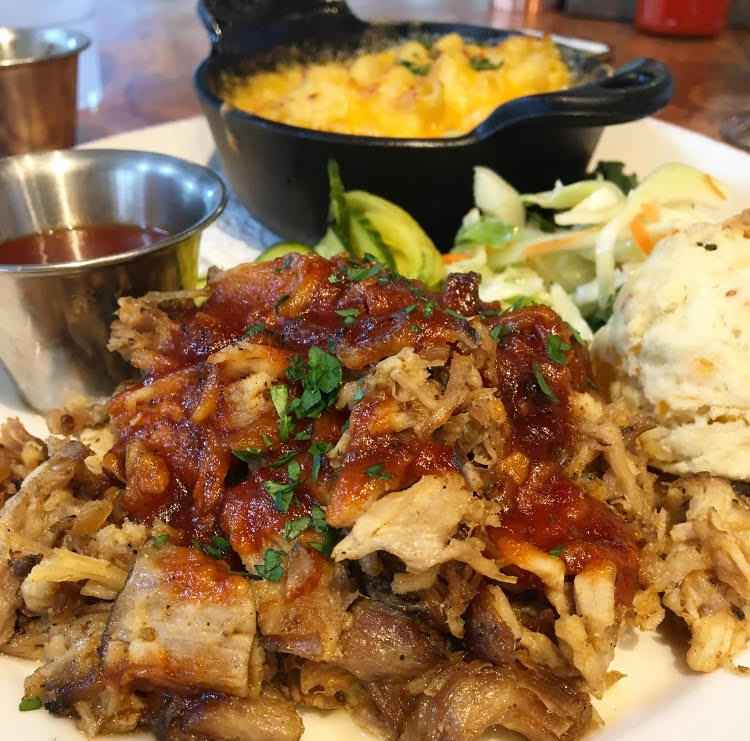 Fried Chicken Sandwich: A signature dish that's buttermilk-brined for 24 hours then fried and served alongside potato chips. Thank you Homecoming for a good ol' dish of fried chicken – nothing fancy, just done right.
Celebratory Birthday Drinks: Bonus points for having Honig Sauvignon Blanc by the glass on your menu! My family opted for the Cucumber Cooler (a must-try on a hot day) and the Muleshine (it's strong, you've been warned). They boast an expansive drink list that's sure to satisfy everyone's palate.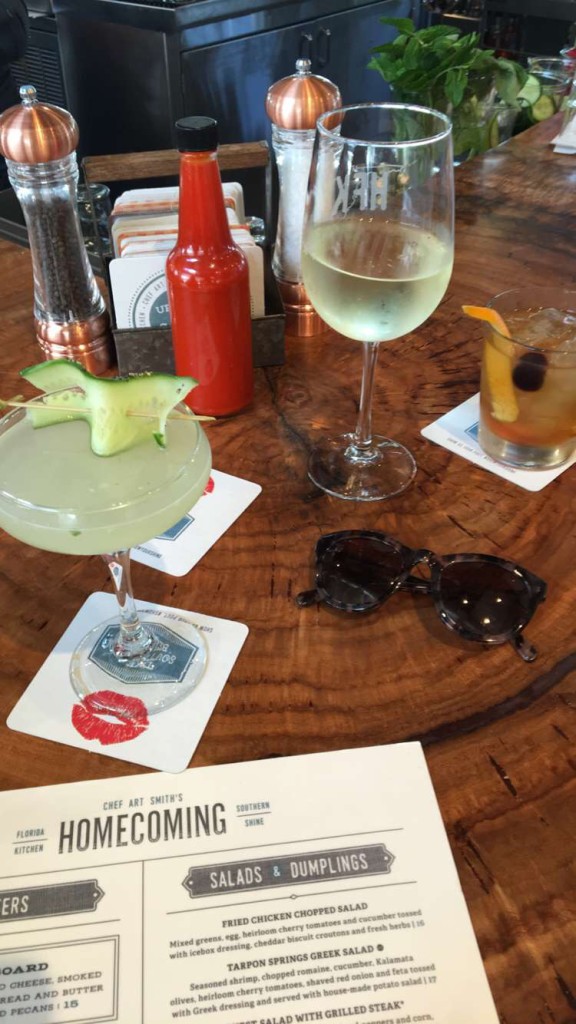 So welcome home Chef Art, you picked a good neighborhood. See y'all at Homecoming.