A contemporary izakaya, Dragonfly in Dr. Phillips, is a modern interpretation of the Japanese pub culture. Sushi, sashimi and robatayaki (an open-fire grill) are served tapas style, with a full sake bar in a relaxed, lounge environment. A departure from your standard sushi spot, the restaurant serves up an authentic Japanese menu with fresh selections from land and sea. From sushi to decadent seafood, you're sure to experience fresh plates and find new favorites.
Aside from modern Japanese fare, Dragonfly also serves up a seasonal Omakase menu. The menu, developed around the Japanese word for "trust," encourages  guests to select a mood and an ingredient. Once chosen, you are asked to trust the chef and bartender to craft dishes and drinks based on your taste profiles. Of course, you're not left completely in the dark as each dish is thoroughly explained by your server before you take that first bite. After enjoying multiple courses we left full, happy and huge fans of Dragonfly. For more on our spring Omakase menu tasting click here.
Omakase dishes vary by season and dining preferences – here's what we enjoyed during our experience last week:
Summer Chilled Ramen: This noodle gets a bad reputation thanks to those grocery store styrofoam bowls. This cold version was filled with English cucumber, heirloom tomatoes, pickled Shishito and snow crab all wrapped up in a vinegar soy dressing. My favorite dish of the evening – light, flavorful and filled with unexpected ingredients you don't typically find with ramen.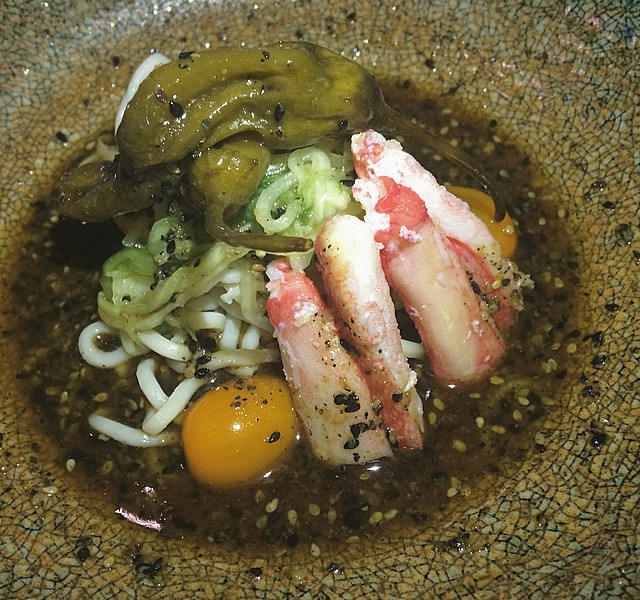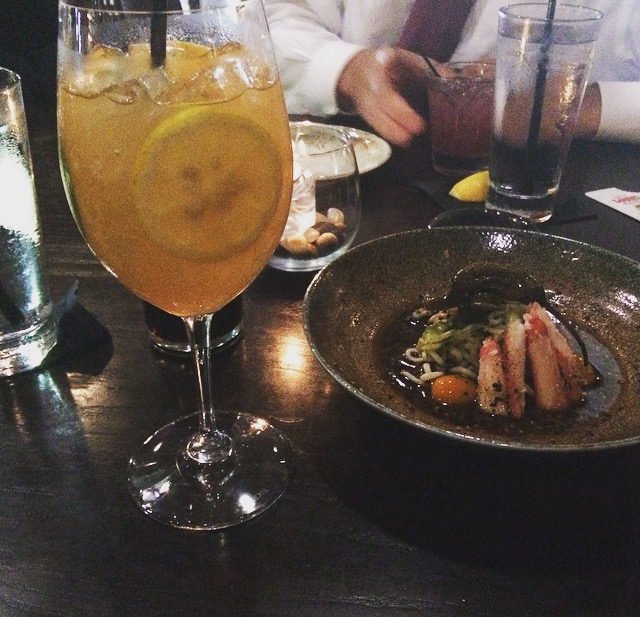 Robata Bronizo: A delicate, crispy sea bass with a ginger scallion pesto and citrus soy. Similar to what we tasted in the spring, this version was airy with hints of lemon in each bite.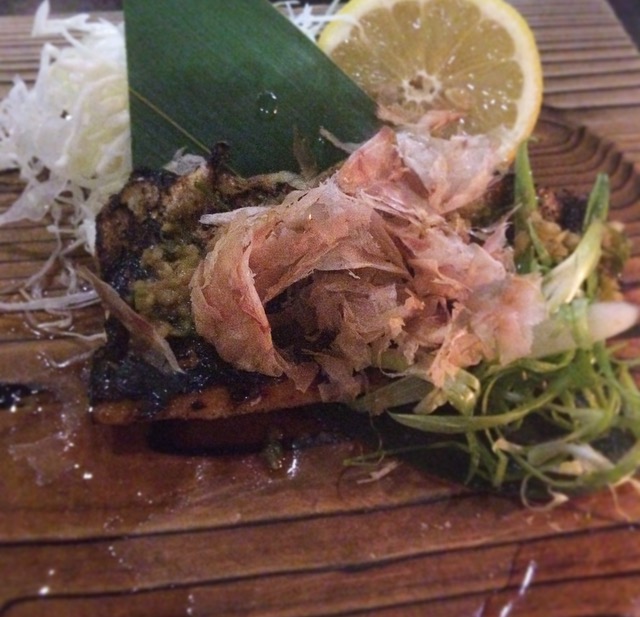 Natsu Roll:  Stuffed with goat cheese, cucumbers, jalapeños, avocados and topped with the most interesting part, a mango, tomato, pepper relish. Never thought goat cheese and mango relish would collide into a sushi roll, but it actually worked. A typically polarizing flavor, the goat cheese added a depth of flavor to the roll and the relish was the perfect summer addition.
Quick Fire: Four pieces of nigiri with special chef toppings. Octopus was included on our plate, I didn't venture to taste it, but those that did enjoyed this special seaside treat.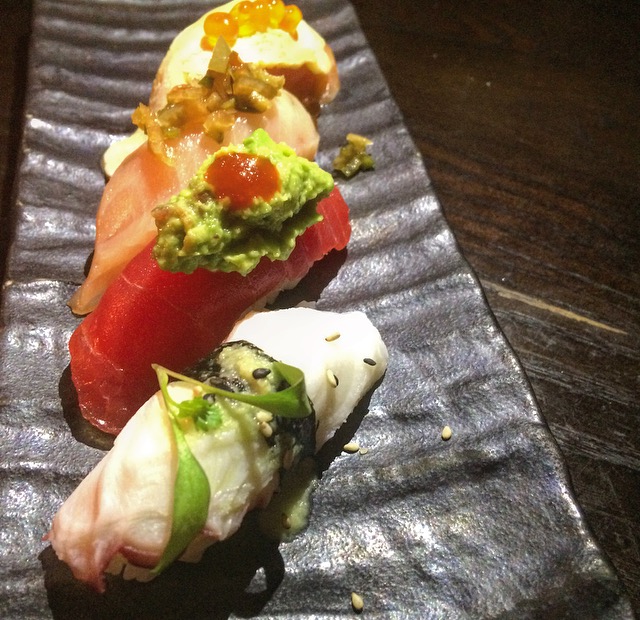 Satori Roll: Another incorporation of avocado and jalapeño – this roll was filled with all sorts of goodness from yellowtail to cilantro. A seasonally relevant roll with unexpected ingredients combing to make a tasty combination of flavors.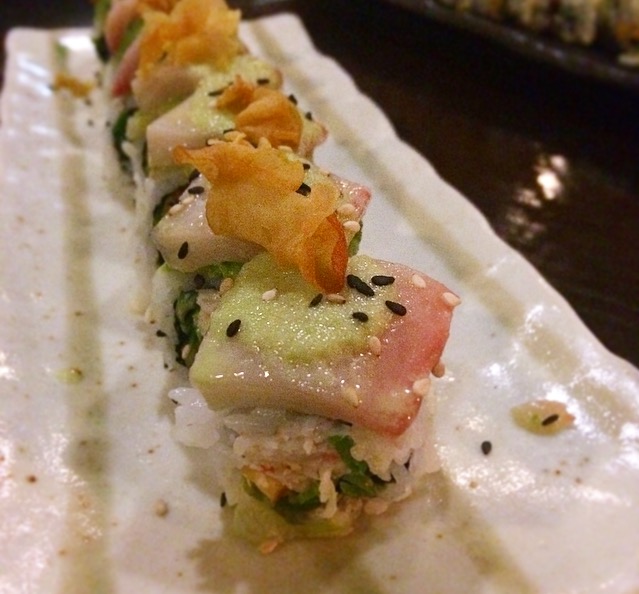 Shogun Roll: Cucumber, cabbage, avocado, torched tuna all topped with a cheesy sauce. Not my favorite roll with the sauce, but it was interesting to taste!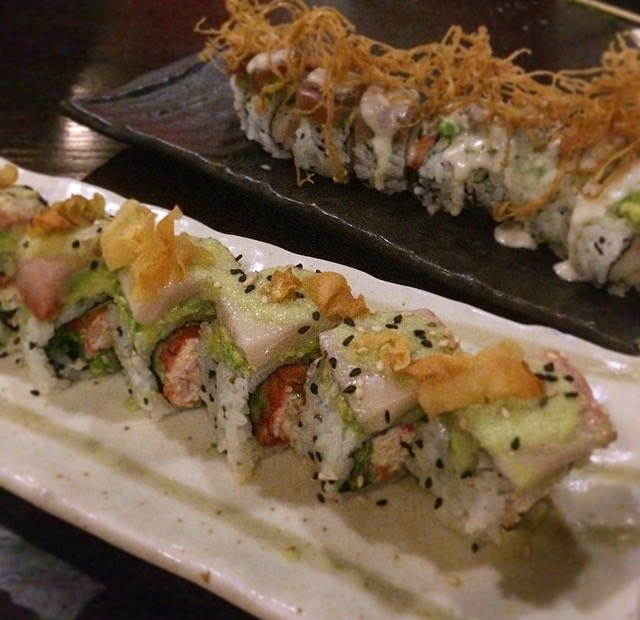 Whether you're into "trusting the chef" or want to enjoy some sushi, Dragonfly is a good option for any occasion!