Grande Lakes Orlando has announced the opening of Whisper Creek Farm: The Kitchen and The Brewery at JW Marriott Orlando, Grande Lakes. Orlando's luxury leader comprised of The Ritz-Carlton and JW Marriott Orlando, Grande Lakes continues to set the bar high for farm-to-fork experiences in Orlando, a rising culinary destination. The Kitchen at JW Marriott Orlando features the inaugural batch of beer from The Brewery at Grande Lakes, an in-house first-of-its-kind nano-brewery producing house-made brews on tap and served throughout the resort.
"Since our organic garden for Chef Melissa Kelly's Primo Restaurant first launched the farm-to-fork movement in Orlando, we have continued to seek out hyper-local culinary initiatives that can provide our guests with authentic, sustainable food and beverage experiences," says Jim Burns, Vice President and Managing Director, Grande Lakes Orlando.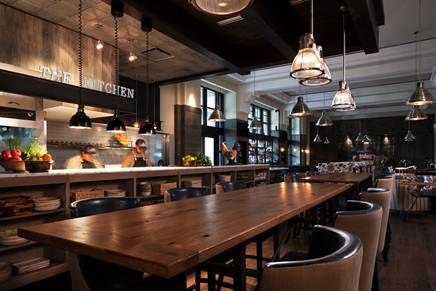 Whisper Creek Farm: The Kitchen
Showcasing a rustic yet polished design, The Kitchen has the vibe of eating in your family's kitchen, with a variety of communal, high-top, sofa, outdoor, and bar seating with rich woods, steel blues, and leather accents throughout. Menu items at The Kitchen—including snacks, small plates and sandwiches, charcuterie & cheese boards, and flatbreads—will feature seasonal ingredients from the 7,000-square-foot on-site garden at Whisper Creek Farm as well as fresh eggs daily from the farm's recently added chicken coop. The Kitchen's sausages and charcuterie, prepared by the JW Marriott butcher, pair perfectly with The Brewery's hops-laden creations. Signature menu items prepared in the restaurant's open-air display kitchen include fresh pickled vegetables, hop-salted house pretzels served with "Surplus" Ale cheese fondue, seasonal flatbreads, and a smoked ham sandwich with a Whisper Creek Farm fried egg served on house-made Whisper Creek Farm honey pecan roll (inspired in part by a popular ham sandwich on the original 1927 Marriott Hot Shoppe menu). The Kitchen's small plates are carefully planned by the JW Marriott culinary team and brought to life by Chef de Partie Jason Shapiro who joined Grande Lakes Orlando in 2009, and since then has been involved in the resort's farm-to-fork efforts including the creation of Whisper Creek Farm.
In addition to showcasing The Brewery's seasonal brews, The Kitchen's six taps will rotate between five seasonal selections from The Brewery, and the always-available Surplus (Honey Citrus Ale), Grande Lakes' flagship beer. Located just off the main JW Marriott lobby, The Kitchen seats 100 indoors and 50 on the outdoor terrace and is open in the evening from 5 p.m. to 11 p.m., with the bar open until midnight. The space can also be utilized as a brand-new, social meeting space bookable for group functions during the day.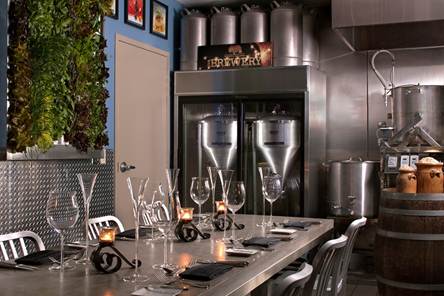 Whisper Creek Farm: The Brewery
The first Marriott property to launch a nano-brewery, Grande Lakes has brought in a local Cicerone-certified brewmaster to lead The Brewery. The Brewery will produce 28 gallons of beer weekly including five styles of beer created each season—Dark, Wheat/Light, Amber, IPA and a Special Brew (a seasonal made from the freshest farm ingredients). Signature Special Brew varieties will include the Maple Bacon Stout, Soup of the Day IPA, and Ghost Pepper Wheat.  In addition to brewing signature beer for The Kitchen, The Brewery also operates as a highly unique back-of-house Chef's Table for intimate evenings and group events.
To complement The Brewery launch, Grande Lakes Orlando is collaborating with nearby Florida Beer Company, a Cape Canaveral-based brewery, to create its flagship beer: Surplus, a signature Floridian honey citrus ale to be distributed throughout the resort's outlets and available year around (naturally infused with Grande Lakes honey sourced from the resort's on-property apiaries).
The launch of the on-property brewery furthers the resort's ever-expanding commitment to sustainable cuisine, which started more than ten years ago with Primo Garden providing fresh produce and herbs for award-winning Chef Melissa Kelly's Primo restaurant at JW Marriott Orlando. Since then Grande Lakes has launched several apiaries, baked all its bread in house (by a 30-strong pastry team), welcomed 30 chickens to a Whisper Creek Farm coop, and opened Highball & Harvest at The Ritz-Carlton Orlando in September 2014 featuring Southern-inspired cuisine with ingredients from Whisper Creek Farm.
Spork is getting a preview this weekend! Full review coming soon!