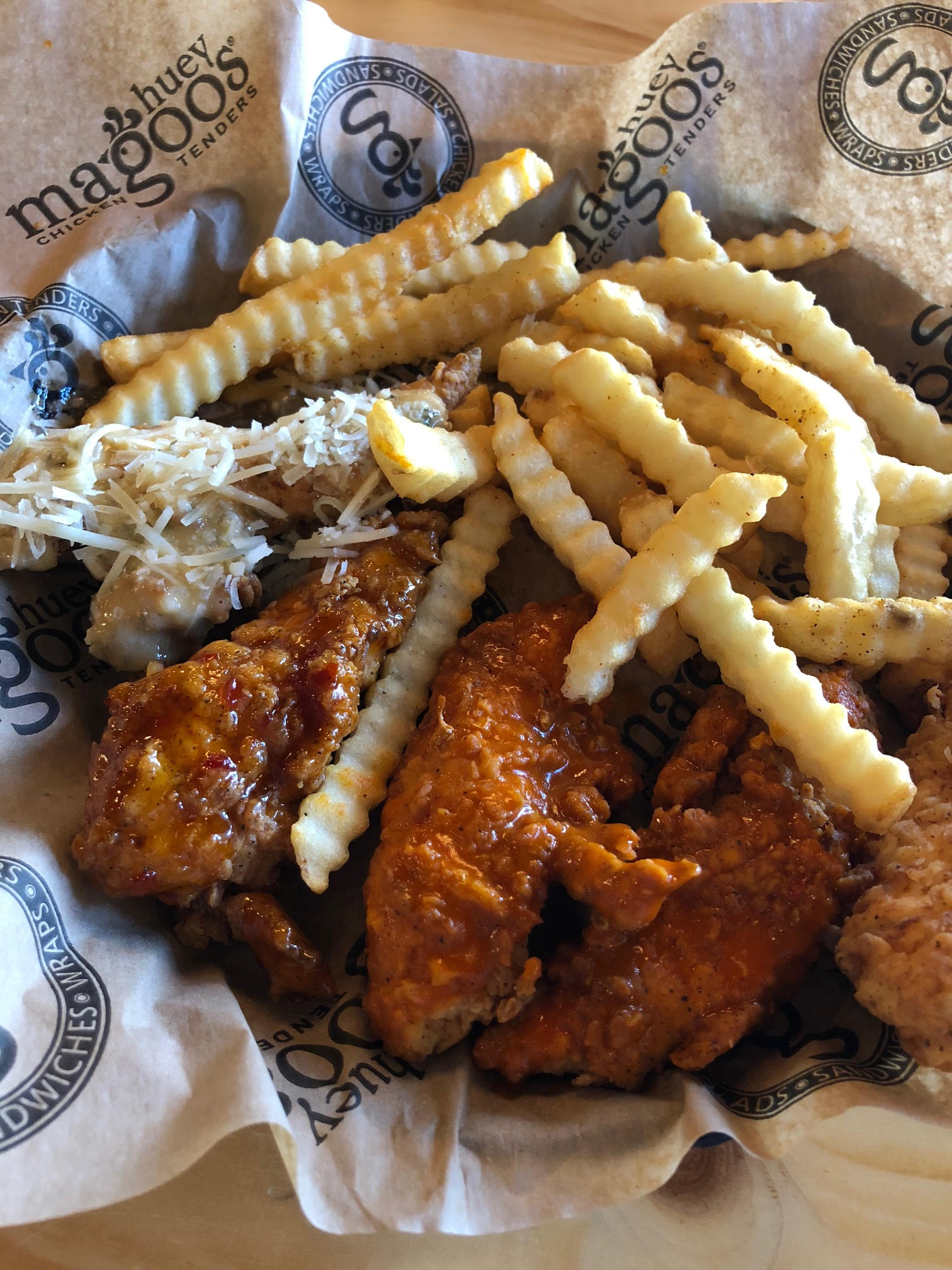 "Tis the season for giving and giveaways! First up in our series of giveaways is a Huey Magoo's gift card. Founded in 2004 by Matt Armstrong and Thad Hudgens, two southern boys with a passion for quality chicken and a penchant for serving others. Voted "Best Fried Chicken" and "Best of the Best Chicken Tenders", Huey Magoo's is rapidly expanding throughout Central Florida and beyond with multiple locations already in Orlando. They pride themselves on providing great tasting chicken tenders in a clean, friendly environment, while showing their love for people. Huey Magoo's delivers fresh, cooked-to-order chicken tenders, and they do it to perfection.
We visited for the first time last week and my only regret is not visiting sooner! Their tenders are so darn tasty which is why we're thrilled to partner with them for a $25 gift card giveaway. It's easy to enter, just follow us on Instagram (@SporkOrlando) and tag a friend that you'd bring along. The winner will be notified later this week and we'd encourage you to visit them this Saturday for their "A Very Magoo's Christmas" benefiting Christmas Dreams. See below for more details and make plans to try the best tenders in town.
A Very Magoo's Christmas

Huey Magoo's is hosing "A Very Magoo's Christmas" this Saturday, December 16. Guests will be gifted with a free meal card, with store purchase, and 15% of proceeds from each store will benefit a Florida based organization, Christmas Dreams.
Takes place at all Huey Magoo's restaurants.  For a list of locations, visit www.hueymagoos.com.
Benefiting Christmas Dreams, a Florida-based charitable organization committed to creating memorable, fun experiences and igniting hope for children battling life-threatening illnesses.  Whether through a visit from Santa in the Neonatal Intensive Care Units (NICU), or their fun-filled "Christmas is Coming" semi-trailer boasting interactive holiday experiences, Christmas Dreams brings the hope and fun of Christmas anywhere, 365 days a year.  For more information, visit www.ChristmasDreams.org.